Uncategorized
My Mr. Mermaid… Man Candy with a Side of Swim Trunks
My Mr. Mermaid is such a cute Chinese show.  I loved the energetic vibe with the sports element.  It worked out that swimming is actually one of the three sports I can handle watching.  (Randomly, I enjoy some soccer and rugby as my other sport viewing choices.)  The show follows the antics of young reporters and collegiate swimmers.  There are also great story lines of friendship that don't just focus on the love interests.  Let's dive in!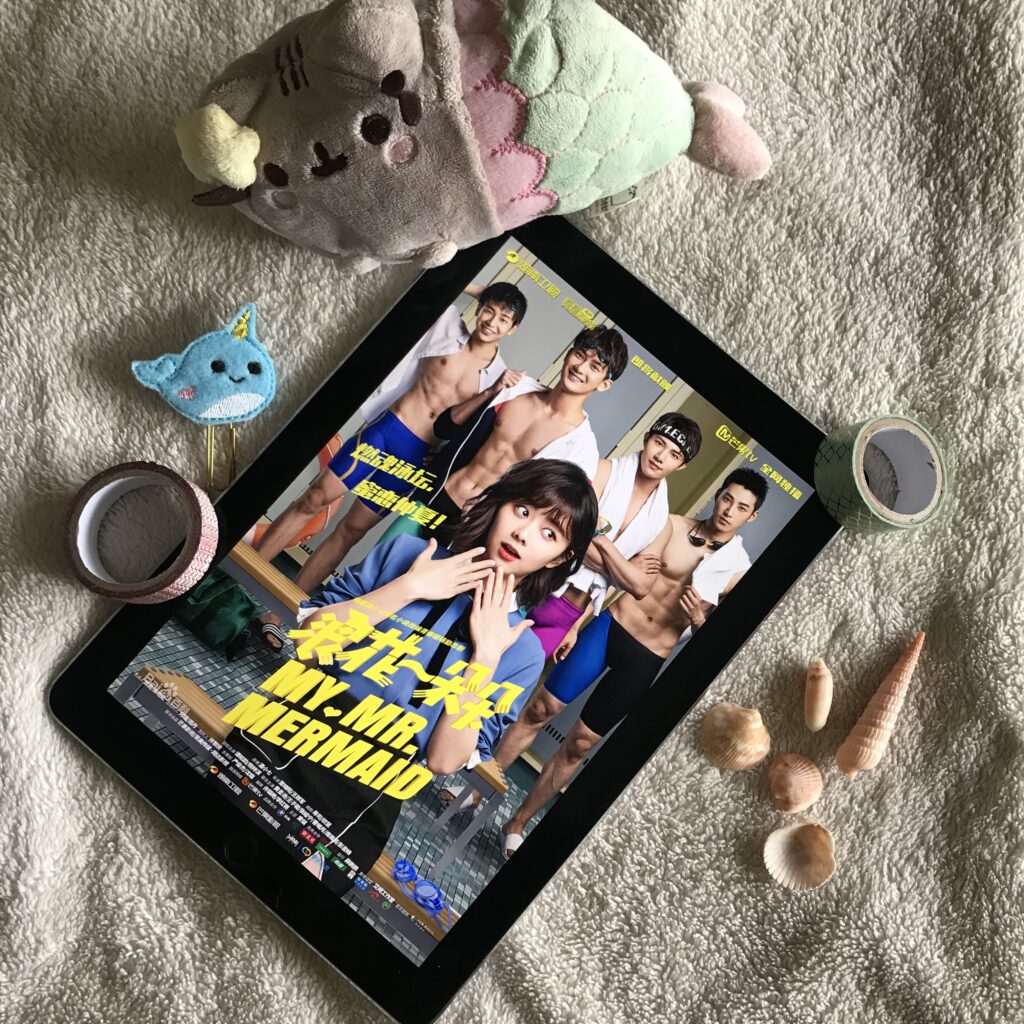 The Basics
Nationality: Chinese
Viewing Platform: Rakuten Viki
Number of Episodes: 36
Episode Length: 45 minutes
Short Summary
The two central characters Yun Duo and Tang Yi Bai meet at a time where both of them are pursuing their dreams.  Yun Duo is an intern reporter for a local news station that is assigned to the swim division of the sports department.  Tang Yi Bai is returning to the collegiate swim circuit after a 4 year suspension for drug use.  He is being reunited with his old friends and trying to become the best swimmer in China.  Yun Duo takes a tumble into the pool on the day of Tan Yi Bai's qualifier and he rescues her.  There is instant chemistry between them too.  Soon Yun Duo becomes friends with his teammates and struggles with her friendships as she tries to meet her professional goals. 
Let's Spill the Milk Tea
Three words to describe My Mr. Mermaid
Cute. Boys. Shirtless. 
Seriously, I think this show's main marketing plan was to paste a bunch of good looking guys in their tight swim trunks and no shirts. However, probably due to regulations no skimpy Speedos were used in the making of this series. There is also a lot of sweat pumping work out scenes to enjoy.
Firstly, I think the characters Yun Duo and Tang Yi Bai have some great chemistry. One smile at each other and it looks like they were made for each other! However, Tang Yi Bai is not the only person after Yun Duo causing some turmoil. The rich and attractive Lin Zi adds some mystery to the plot.
The storyline progresses as the team competes for the Dream Cup, a collegiate swim championship. Yun Duo quickly has to begin to make judgement calls about balancing friendship versus professionalism. Often these calls and incidents put her in a precarious situation with her internship.
The fiercely loyal, but also pompous team captain Qi Rui Feng provides a lot of comic relief by playing tricks and poking fun at the group.  He is always at odds with the girl's team captain Xiang Yang Yang.  I also have to admit their teammate Zheng Ling Ye gives off serious Ximen from Meteor Garden 2018 vibes.  (Although it could just be the round Simon the Chipmunk glasses.)  
The characters are randomly connected through a stretch of mysterious circumstances from the past.
Real Talk
***Spoilers Ahead
The lack of some common tropes in this drama was very refreshing. (Now it is a Chinese drama, so there is some amnesia and a 4 year long coma.) This was the first drama of several that I have noticed where cute and kind girls are the main love interest. I wish this was a thing in dramas when I was a teen. Yun Duo repeatedly does nice things for her friends and even strangers. Although, it sometimes puts her into awkward situations.
However, she almost drowns 3 times in the series.  But with hot guys rescuing you each time, there isn't much of an incentive to learn to swim.  How she doesn't remember some of the people from her past is a little weird too.  If I bring someone to the ER, I think I would still remember them later.  
Another fun trope used was the forced living situation. Yun Duo is suddenly evicted from her flat, and Qi Rui Feng gets involved in her new home search. He finds accommodation for Yun Duo with Tang Yi Bai's parents without telling either of them the connection. Of course, this causes Yun Duo to find Yi Bai in shower when he visits his parents.
Lin Zi is super creepy to me. He basically lies and stalks Yun Duo with the facade of a nice guy. Although he has the hots for her, he also has revenge in mind against Tang Yi Bai.
Then towards the end we get the real back story. Turns out Yi Bai, Lin Zi, Qi Rui Feng, and Ou Yang Heng are all connected due to a girl named Lin Sang. Lin Sang was a classmate of the boys and the beloved younger sister of Lin Zi. This is where the tropes are fired up when it is come to be known that Lin Sang befell a horrible accident and has been in a coma for 4 years. Of course, she has the hots for Yi Bai and causes conflict when she wakes up for Yun Duo.
The Final Lap
It was a good change of pace to enjoy the lighter storyline. It was nice to take in the swim meet scenes and newsroom banter. If you are on the market for something lighter, I recommend My Mr. Mermaid for some man candy and chill storyline.
Boba Rating: 4 out of 5

What is your favorite light viewing Asian drama?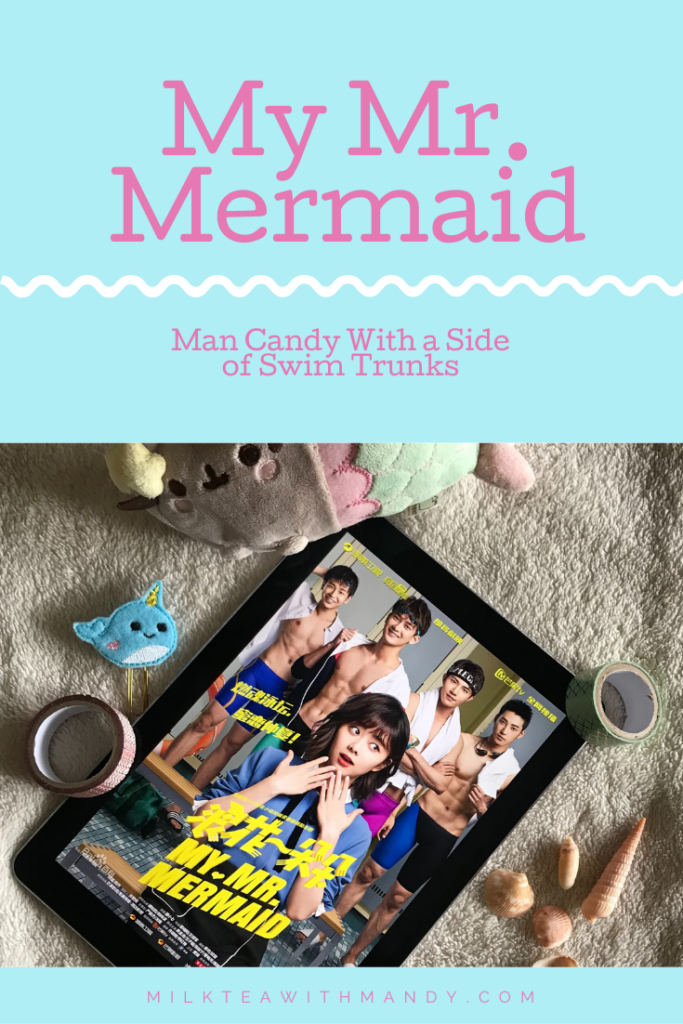 Disclosure: Some of the links above are affiliate links, meaning, at no additional cost to you, I will earn a commission is you click through and make a purchase.
Please follow and like us: