Love Me, If You Dare is another great Chinese drama to enjoy around Halloween.  It does not deal with anything supernatural, but it is a psychological thriller.  (Think Criminal Minds.)  It was also recommended to me by another Mandarin studying friend and is completely different than any other show I have watched since.  It was released in 2015 with the right amount of gore, mystery, and romance.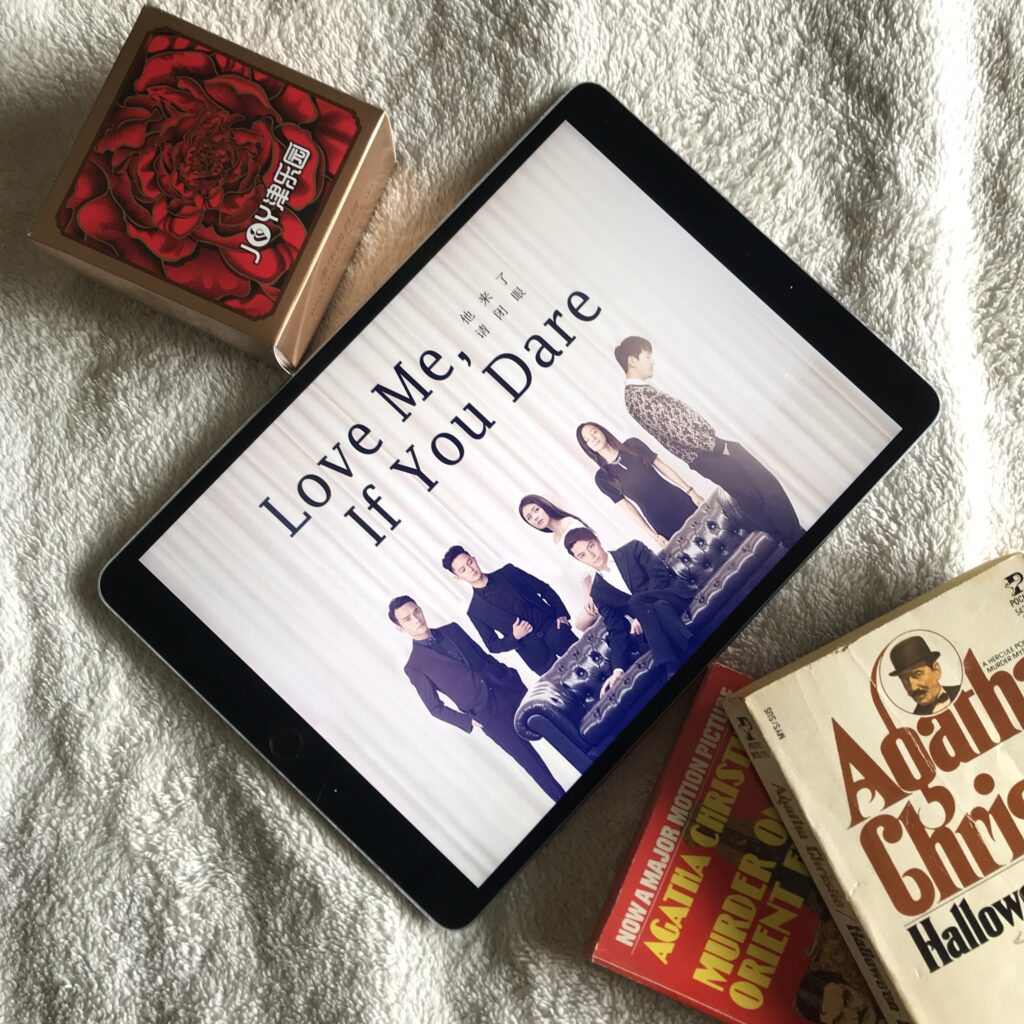 The Basics
Nationality: Chinese
Viewing Platform: Rakuten Viki 
Number of Episodes: 24
Episode Length: 45 minutes
Short Summary
Jian Yao (Sandra Ma) also known as Yao Yao recently finished her degree and awaiting her exam results.  She returns to her hometown and picks up side work translating documents for world renowned criminal psychologist Bo Jin Yan (Wallace Huo).  Bo Jin Yan is also known as Simon after spending years working in American with the FBI.  She helps him solve a case of disappearing boys around the area and is offered a job as his permanent assistant.  At first, Yao Yao refuses, but is eventually won over after being roped into a second case at her new job that happens to be Bo Jin Yan's stepsister's company.  
Let's Spill the Milk Tea
Throughout this series, Bo Jin Yan dances on the line of genius and madness in a very attractive package. (Seriously, I will never forget the episode where he marches into Yao Yao's new company undercover with his pleased smirk.) He often retreats into his imagination to think of himself as both the victim and the killer to understand the crime. While Yao Yao is in touch with reality and reminds him how normal people behave.
The plot becomes more complex as they realize the killers they are hunting are being trained by one master serial killer that enjoys the game. Unfortunately, the master killer is obsessed with Bo and believes he is one inch from becoming a killer himself.
The supporting characters like his good friend and fixer Fu Zi Yu (Andrew Yin) have more complex roles and development. Bo's stepsister Yin Zi Qi (Zhang Ling Zhi) also makes strides to become part of his life after being shut out in his quest to catch serial killers. There is also another love interest for Yao Yao in her childhood friend and police officer Li Xun Ran (Wang Kai). There is also an adorable little tortoise owned by Bo that makes several appearances in the series.
According to My Drama List, this series is adapted by Close Your Eyes, Stay Close to Me by Ding Mo.  I have not read it or found a translated copy.  However, there is a Goodreads page dedicated to it with reviews in English.   
Real Talk
***Spoiler Alert
The vibes of this show quickly switch back and forth from romcom to slasher film. I sometimes had a hard time keeping up. It is difficult to go from a turtle with a flower attached to his shell to a murdered body in my mind. Towards the end, it gets really important to pay attention because things are not always as they appear.
There are some things that do not make sense to me as well. For example, when the characters talk with the FBI agent, and she speaks to them in English while they respond in Chinese. (As a Chinese learner, I know that my listening skills are far better than my speaking, but not that far ahead!) At least her accent is accurate. I also cannot believe some of these characters were able to survive some of the gory attacks that happen later in the series. While one is left comatose with no real resolution on his fate at the end.
I do believe Yao Yao and Bo's relationship is believable. She puts up with his quirks and they both have childhood trauma in common. The relationship isn't too insta-love and Bo properly takes time to court her without her throwing herself out him. (A fact I appreciate in any drama no matter the country of origin.)
**Warning:  There are some strong language and violent scenes in this drama.  Viewer discretion advised!  
It's Not Over Until the Turtle Crawls
This drama is nothing like the girly romantic classic I usually enjoy.  It is much more serious than last week's show My Roommate is a Detective. However, I still really liked this series.  It is definitely worth a try if you are one of those people who like true crime podcasts, and watching gory movies.  If nothing else, you will enjoy the handsome Simon Bo and his cute little turtle.  
Anyone found the English translation of the novel this show is based on and read it?
Disclosure: Some of the links above are affiliate links, meaning, at no additional cost to you, I will earn a commission is you click through and make a purchase.
Please follow and like us: